Vietnam has enormous economic potential when it has become the 17th country in the world with more than 49.7 million Internet users, accounting for nearly 53% of the population. User growth is about 6% per year.)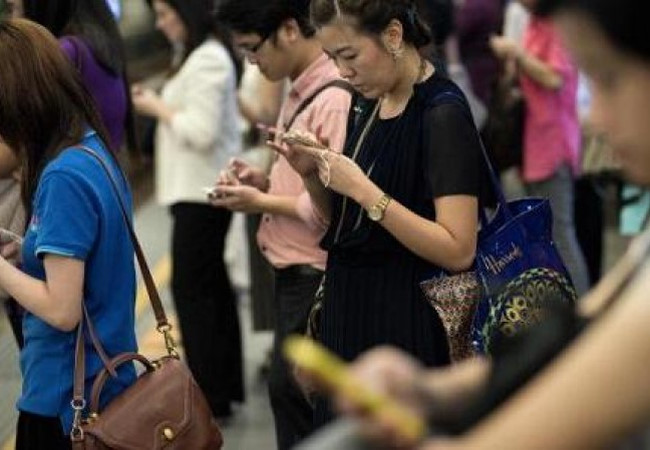 Artwork: Internet
That is one of the comments that the International Organization for Names and Numbers (ICANN) exchanged at the Seminar on Trends in Multilingual Domain Development (IDN) by Vietnam Internet Network Information Center (VNNIC) Held this morning (3/5).
All browsers support Vietnamese domain names
According to information from VNNIC, the domain name (Internationalized Domain Name (IDN)) is the domain name written in the native languages ​​of countries around the globe. Multi-lingual domain names have been officially launched by the International Organization for Names and Numbers (ICANN) since April 2010 and have now become an indispensable development trend on the Internet, especially in countries that are not. Use of Latin characters such as Russian, Chinese, Korean, Japanese, Indian, etc .. Up to now, all browsers have supported IDN domain names, including Vietnamese domain names.
ICANN Representative at the Conference
Multilingual domain names of Vietnamese domain names in Vietnamese (TMTV). Currently Vietnamese domain names are developed under the national domain name ".vn" as the second level domain name (directly after ".vn").VNNIC does not deploy domain names in Vietnamese under the second level domain names shared as .com.vn, .net.vn …
Because of Vietnamese language in Latin language, Viet Nam has not yet been assigned ICANN's multi-national domain name (VietName).
Having gone through the development process with different stages, the Vietnamese domain name is actually operating on the Internet, giving users a lot of choices with the advantages of large and clear domain names. , Avoiding ambiguous understandings to help users identify and protect their trademarks exactly in Vietnamese language on the Internet.
According to Internet World Starts report, Asia-Pacific currently contributes more than half of the 3.7 billion users globally. Most of the billions of Internet users in the future will come from this area. The rapid expansion of the Internet in recent times has led to the need for DNS extensions.
The new phase of Internet activity
One of the key issues of IDN is that Vietnamese experts in the field of policy, technology and language should focus on and set up a committee for the creation of rules that create high-level domain names in Vietnamese. . Vietnam is represented by VNNIC who has participated in the Latin Initiative Board to ensure that the Vietnamese language is represented in the Latin IDN.
With the advantage of clear meaning, ensure pure information, avoid conflicts due to misunderstanding the domain name seal, TMTV is well received, registered widely since mid-2011. TMTV has achieved significant milestones and achieved 1 million in 2014.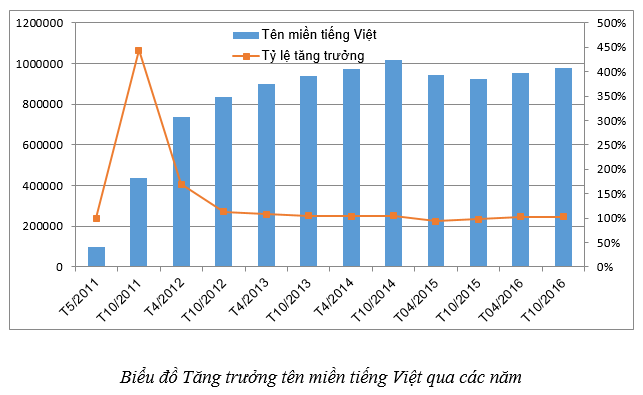 From January 1, the Ministry of Finance issued a circular regulating the rates, regime of collection, remittance, management and use of charges and fees for ".vn" national domain names and Internet addresses (IPs) In Vietnam, TMTV is officially allowed to collect the maintenance fee at a minimum level to cover the management cost of VND 20,000 / domain name / year. This revenue is small, but it is important to help TMTV be transferred, help widely deploy TMTV.
"We are witnessing a new phase in the development of Internet activity with a wide range of services and new technologies that serve the needs of our users," said Tran Minh Tan, director of Vietnam Internet Network Information Center. human. Located in the general development of the Internet, multilingual domain names (domain names written in the native language of the world's countries) are now global trend. "
According to VNNIC's Internet resources report in 2016, more than half of Vietnamese enterprises own websites to sell online. By crossing the language barrier, Internet penetration may increase as more Vietnamese access the network in their native language.
Updating the system to keep up with the constantly changing DNS in order to accommodate new gTLD domains and IDNs is imperative for software designers and website owners. By ensuring software systems are updated to work with DNS, global online profit is projected to grow by $ 9.8 billion.
At present, domain name registrars ".vn" have simultaneously deployed domain name allocation in Vietnamese.Currently, beside the DOT VN registrars, five more domain name registrars have deployed services to register and maintain domain names in Vietnamese community. Thus, the system of domain name ".vn" registrars receives the dossier for registration of Vietnamese domain names, including:
– iNET Corporation
– GMO Corporation-Z.com RUNSYSTEM
– Nhan Hoa Software Company Limited
– PA Vietnam Co., Ltd
– DOT VN INC. (DOT VN INC., JSC)
– ESC Online Solutions Company Limited
The registration, maintenance of Vietnamese domain name rather than directly implemented in VNNIC as before, now the subject can easily select one of the domain registrar ".vn" public VNNIC The father on the system to carry out the registration, maintenance for his Vietnamese domain name.
Mr.le
Source: Viettimes.vn